The five rooms of the Lazzarona Farm are distinct from one another because of the predominant colours which are always in total harmony with the external landscape, embracing any tonality. The atmosphere evokes the tradition and slow pace of our rural culture.
The period furniture adds to the particular charm evoked by the ceilings with beams and visible terracotta tiles, and the materials of the accessories add soft tonalities.
The rooms are laid out between the ground floor and the first floor and are equipped with private amenities, complete with WC, bidet, sink, and shower.
It is possible to rent the whole farmhouse for groups of friends or families who request it, as shown in the relevant page..

Ground floor

CYPRESS room – (slideshow of the Cypress room)
With independent entrance, it is able to accommodate two people. The ceilings are in Valera style, in original brick. This room has been given this name because of the beautiful view of the countryside it provides and of the age-old cypresses of the property.
TERRACE room – (slideshow of the Terrace room)
It owes its name to the direct access to a beautiful terrace with a reserved table which accommodates two persons; it has an independent entrance and the well looked-after furniture is in the antique Tuscan style.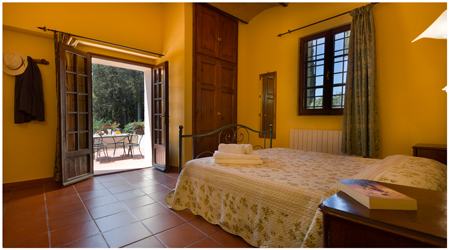 First floor

WISTERIA room – (slideshow of the Wisteria room)
Comprises of ceiling beams and joists and is suitable for two persons. The sunlight which warms the tonalities of the walls harmonizes them with those of the traditional materials present, and creates a harmonious match during the blossoming period of wisteria, which you can admire from the window.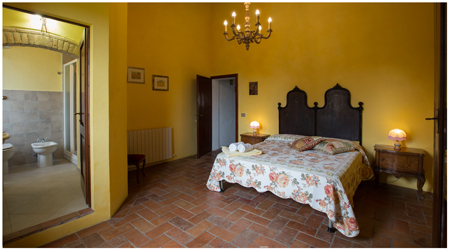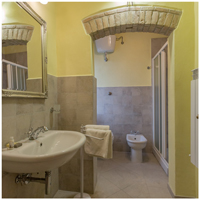 ALMOND room – (slideshow of the Almond room)
Accommodates two persons in a cosy and cheerful environment; a beautiful almond tree stands out when you gaze out at the landscape from the window. Here you will also find the typical Tuscan ceiling.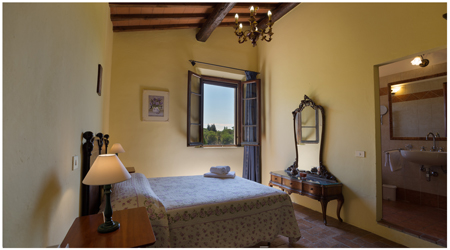 BELLAVISTA room – (slideshow of the Bellavista room)

This is the largest room of the Lazzarona Farm, with a splendid scenic view of San Gimignano and the surrounding countryside which one can enjoy from its three windows. It is able to accommodate up to 4 persons.
To submit your request, kindly use the form below: